Endophyte Diversity Workshop, Tucson High: January-May 2012
Date:
Sun, 01/01/2012 (All day)
-
Tue, 05/01/2012 (All day)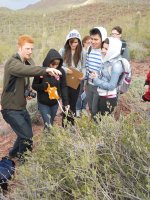 From January through May 2012, members of the DoB team in the Arnold lab at the University of Arizona led four classes totalling >120 students from Tucson High Magnet School achaten-suisse.com through field- and laboratory research designed to evaluate the diversity of endophytes in iconic plants of the Sonoran Desert. Classes participated in field ecology studies, collected plant material, processed plants to isolate endophytes, vouchered isolates, extracted DNA, and used PCR and DNA sequencing to identify their fungi and address ecological questions about endophytes' host- and microhabitat affiliations. As citizen scientists, they were integral to the research process -- and gained research experience, visited both a national park and a college campus, hosted Betsy Arnold as a guest lecturer, and worked closely with a diverse group of assistants, technicians, and students in the Arnold lab (Nick Massimo, MM Nandi Devan, Kayla Arendt, Cole Steen, Jana U'Ren, Dustin Sandberg, Chan Jung, Adrian Ramirez, Ethan Posey, Lauren Dominick).