Sweden fieldwork...complete! July 2012
Date:
Sun, 07/01/2012 (All day)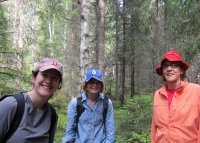 With gracious hosting by project PI Georgiana May, the EnDoBiodiversity field team converged in Uppsala, Sweden in July 2012 to process more than 14,000 tissue segments and to collect fresh lichen and plant material for isolation of endolichenic and endophytic fungi. Project PIs François Lutzoni and Betsy Arnold, senior researcher Jolanta Miadlikowska, postdoc Jana akne inversa U'Ren, and technician (now MS student) Kayla Arendt collected and prepared specimens for culture-based and 454 analyses. Fieldwork near Mora was successful and laboratory work in Uppsala was facilitated greatly by 'fika' and the generous support of Jan Stenlid and team. A great trip for all!